TICKETS AVAILABLE FOR PURCHASE AT THE DOOR!
Doors 7PM / Show 8PM
Lyric Theatre in the Plaza District
1727 NW 16th St.

Oklahoma's largest burlesque event, featuring the best in burlesque & variety entertainment from around the world!
4th Annual Oklahoma City Burlesque Festival
June 24-25, 2016
Please email boxoffice@adelewolf.com or call (405)445-1696 with any questions!
2016 Guest of Honor
April March
The First Lady of Burlesque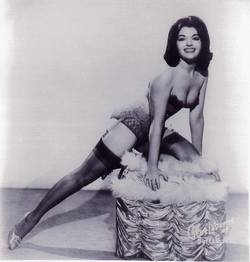 April March worked in burlesque from 1952-1978, performing all over the US, Canada, Mexico, and England. She w
as called "The First Lady of Burlesque," in part because of her resemblance to First Lady Jacqueline Kennedy, but mostly due to her ladylike behavior on and off stage. Never crass or profane, April March was the personification of the "elegant" stripteaser and became known for her class and grace.

April headlined two Harold Minsky shows and Ann Corio's show This Was Burlesque on Broadway. In 1964, April appeared in a short film by Jim Henson called Time Piece and recently appeared in Behind the Burly Q.

She is the only permanent Guest of Honor at The Great Burlesque Exposition. In 2009, April graced their stage with her world-famous striptease for the first time in thirty-one years. Her act received a standing ovation. She is a regularly featured guest at the Burlesque Hall of Fame and in 2015, she was awarded Legend of the Year. She also made her return to Oklahoma City in February of 2015, performing in her hometown for the first time in over 40 years at Adèle Wolf's Burlesque & Variety Show.
---
2016 Headlining Performers

Coco Lectric
International Burlesque Star from Austin, TX
Coco Lectric is a classically trained dancer, actor, and vocalist. She has performed around the world; from Europe to Australia. She's a founding member of The Jigglewatts Burlesque Revue (Austin, TX), founder of the Austin Burlesque Alliance, co-producer of the Texas Burlesque Festival, and is the Director of The Austin Academy of Burlesque. Among her other accolades and awards, she's performed in the Miss Exotic World and Reigning Queen of Burlesque competition in 2011, 2012, 2013, and 2015. She has been voted in the "Top 10 Burlesque Performers in the World" for the past 4 years (21st Century Burlesque's "Burlesque Top 50").


---
Indigo Blue
International Burlesque Star from Seattle, WA
Miss Indigo Blue is the Headmistress of the Academy of Burlesque. A lifelong student of dance, theater, and performance, Miss Indigo first trained with Burlesque Legends Wild Cherry and Kitty West in 2001.

Since 2008, Miss Indigo Blue has been the co-director of Education for The Burlesque Hall of Fame in Las Vegas. That same year she founded BurlyCon Burlesque Convention, and serves as the Executive Director.
In 2011 Miss Indigo Blue won the highest International title for Burlesque performance, "Miss Exotic World". She remains dedicated to Burlesque education, and continues to teach and administer at the Academy while maintaining a busy performance and touring schedule.
​
Miss Indigo holds numerous other awards from the Burlesque Hall of Fame including Most Classic 2011, 1st Runner-Up Tassel Twirling 2004, Best Legs 2003, and Little Miss Aftershock 2002. In 2008 she was selected by Heeb Magazine for the "Heeb 100", won "Sexiest Eyes" at the New York Burlesque Festival, and starred in the critically acclaimed documentary film "A Wink And A Smile" about her Academy of Burlesque. She currently performs as a soloist, with Lily Verlaine Presents, and as a troupe member of The Atomic Bombshells. Miss Indigo Blue is based in Seattle, WA.
---
Red Bone
Award Winning Burlesque Star from Minneapolis, MN
Internationally known, Minnesota Grown Red Bone has been performing since 2005 as one third of Foxy Tann and Wham Bam Thank You Ma'ams who won the 2006 "Best Troupe" and "Most Vegas" titles at the Burlesque Hall of Fame's, Miss Exotic World Competition. She has wowed audiences with her one of kind, whirlwind performance style in such exotic places as Chicago (Superstars of Burlesque), Denver (Lannie's Clocktower), Los Angeles (Margret Cho's The Sensuous Woman), San Francisco (Little Minsky's & Hubba Hubba Review), and London (Immodesty Blaize's Burlesque Review).
Recently named "The Cyclone of Burlesque", RedBone continues to whoop it up around the country. Dancin' fiercely in such burlesque festivals as Tease O Rama, Southern Fried Burlesque Festival and Vancouver International Burlesque Festival. In addition to the prior, This free-styling, dancing machine has competed in the top 8 at Viva Las Vegas 2013, named Most Entertaining at A Burly Q! 2014, runner up at the 5th Annual Shimmy Showdown and has recently been a feature in Viva Dallas Burlesque, Fierce! International Queer Burlesque Festival, Jeezy's Juke Joint and The Show-Me Burlesque Festival in St. Louis, MO. In 2015, she competed in the Miss Exotic World competition at the Burlesque Hall of Fame.
---
Chris McDaniel
World Champion Trick Roper from NYC, NY
A world champion trick roper and holder of 2 world records with bullwhips, McDaniel mixes his skill, charm, comedy, and cowboy songs to make a little cowboy magic. He's been seen internationally from Bali to Moscow and spends much of his time as a guest performer at 5 star resorts in Mexico. He's been on The Late Show with David Letterman, 2 national Broadway tours, and most recently on NBC's Best Time Ever with Neil Patrick Harris! He regularly performs with Wasabassco Burlesque and LeScandal in New York City, Bustout Burlesque in New Orleans, and The Ruby Revue in Houston.